Have you been trying to decide if you should start a blog? Or maybe you want some help getting started – something to get you up on your feet quickly? Well I have a great news!  Crystal Paine from MoneySavingMom.com has written a 5-day course designed to help beginner bloggers get their blogs up, running, and ready for launch —in 5 days!  Let me tell you about 5 Days to a Successful Blog Launch.
What's included?
When you enroll in 5 Days to a Successful Blog Launch, you'll get:
5 comprehensive daily lessons covering the essential blog launch tips, to-do's, and strategies including information on hosting providers,blogging platforms, email list providers, content creation, social media and more!
Actionable daily assignments to keep you on the fast track to your blog launch goals!
Additional links and resources for each day, if you'd like to dig deeper on a subject.
Easy-to-use glossaries to ensure you understand the lessons.
Printable blog launch checklist to walk you step-by-step through theblog launch process.
Bonus access to my How to Make a Full-Time Income from Home series videos for extra encouragement and tips!
FREE access to my 10 Ways to Make Money with your Blog Cheat Sheet to help you reach your money-making goals!
FREE access to the YBU™ learning platform, a custom-built online hub made exclusively for YBU™ students to help them manage theiruniversity, add new courses, receive YBU™ updates, and more!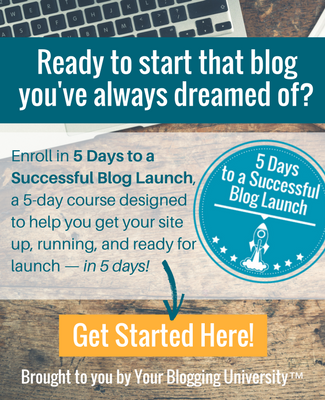 This course will be priced at $17 normally, but through May 23, you can get it for only $7!   I love it that Crystal has this priced for new bloggers – so anyone can afford it!
Happy Blogging!
Rose
NOTE: 5 Days to a Successful Blog Launch is not meant to provide in-depth training for more advanced website setup. The purpose of this course it to help you navigate the blog launch process, from not having a website to launching your completed site.